Wednesday, April 04, 2007

Alright... I kinda moved my blog to livejournal
Here
, thought i still love the skin thingy at blogger and their flexibility of formating etc etc.. but i guess its time to try other stuff. Am not sure if this is going to be a permanent shift, so i am gonna keep this site for now!

frm past till now at-
12:35 PM

This year been such a hectic buzzle year, i haven't updated in months, guess some of my friends would have thought that i had departed from blogging, well i kinda thought i would do that, but i guess here i am again, on St Pats Day!, Happy St. Pats Day..
Mid terms are over, thank god, and spring break is coming to an end (oh my god), and its the last sprint towards the end of the semester, before the much dreaded summer for 6 weeks and alas, home!! My initial plans was no where near going home during summer.But if i do follow my plans, i doubt i'd be alive by fall. Its a tiring semester, work kinda overload, come to think abt it, i still have work to do that is due the coming week, as early as monday (terror thoughts).
San Fran was really overwhelmingly fun, the places to visit (hurhur the tall buildings that now i miss), the nice seafood (drools), the great scenic views, the cute dogs (fat ones too), everything was just warm and cosy, something i miss since i came to bloomington, can u imagine its like 20++ degrees celcius in San Fran while its like 4 degrees here -.-"
We saw the golden bridge, lambord infamous winding road(which we attempted with the risk of our lives), we travelled far, got lost, and got irritated and feeling of near death (ahuh), and to fisherman warth, where the prawns are nice and juicy!. We went to a winery, and we even had a body scrub at some town nearby! after seeing California's Old Faithful in Napa Valley, Calistoga and the fainting sheeps that never fainted, no matter what niqq tried to do. Dinner was KFC and we met this old man, who got locked out of his car after fishing, his devotion to his wife is admirable..Like at 71 he still calls his wife, hunny bunch (how cute is that!!!)
We managed to drive up to Monterey Bay and went to the aquarium, sadly we came late evening, so we weren't able to do any whale watching =( but well, we had our fair share of jelly fish, weird fishes (the sun fish) and cute otters!!!, the sunset was plain beautiful and i got to hug this cute pup!!! *melts* because we were late, didn't manage to go to the 17miles scenic drive (which was our initial intentions =\)ohoh, we did go to stanford uni, it is beautiful~! as in beyond what words would probably describe, the tradition of riding bicycle is something that is relived by them.
On our last day we went to Twin peaks in the morning and again at late evening, which was so much more breath taking, and a full view of the stars. We drove down to haigh and ashbury to shop at the traditional boutique-like shops, which i managed to get some carving kit and as well as some figurines from
kidrobot
. we then proceeded to go to Gillroy to do some outlet mall raiding. I guess maybe we are tired or maybe we are just plain worn out, we managed to buy some stuff for our so, but i guess most of us did not buy stuff for ourselves...

frm past till now at-
12:48 PM

Monday, December 25, 2006

URGH!! Pissed big time...

frm past till now at-
8:23 AM

Friday, December 22, 2006

Argh!!! I wished i was back in Sg for a tinny winny longer, so i could savour all the nice food ard and the company, but well i did pretty much so much stuff in the 6 days i was back, there was a moment i wished i was in Sg and didn't go to the States =| but well, there are tons of reason why people expand their horizons *grinz* But oh well the misses are plenty. Although it was a short visit i met up people that are dear to me, however not everyone of them >.<
I didn't have time to meet like 95% of my friends *shakes head* sorrie guys <.< I didn't even get to meet my seal *pouts* but well! I get to meet my owner, which i haven't met for a year++ owwwwwnaaaaaaaaaaa, where is the love?! Have wifey2 taken over me =~ lol aight enuff for the drama. At least I managed to eat Dim Sum, Xiao Wan Mian, the chicken at Soup restaurant, Chilli Crab *grinz* etc. food food food, enuff food to give me an upset stomach at the end of 5th day lol I didn't take much pic of the food, but Ging did a better job hehe! Just look at her blog! I haven't uploaded the pics that we took with my cammy, forgot to bring my dock -.-"
Plurge quite abit in those 5 days XD I even bought a new mobile, Raf bought the black w850I and i bought the white hehehe~ white n gold *grins wide* Oh well, Plurgies!!! Did my brows and my hair did my new specs lol! but i guess need to change the degree for the lense -.-" for both specs in indo think or buy the thingy to extend from the nose part -.-" my bridge tooooo low le =(
Xmas in 2 days, somehow in Asia, there isn't much of the festive feeling =( kinda sad huh! OhOh Val, Ben, Owna!!!!!! My pressie *complains* =p send it over to the states!!! <3 Don't send me some lemon grass n stuff -.-" though i jokkingly said i wanted that lol
My loveable brother *grins* he is aging faster than me =
One of my new loot!
Food!!! Xiao wan mian~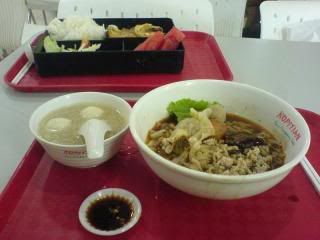 Ba Chor mee~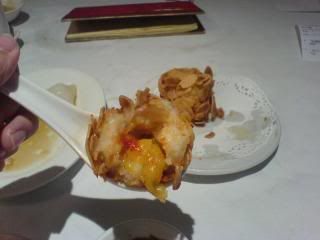 Almond, Prawn, Mango *drolls* its really good!!! *mouth waters*
Try the Dim Sum here its vvvv nice!! Cheong Fun the skin so smooth~~~
Gingy Ging Ging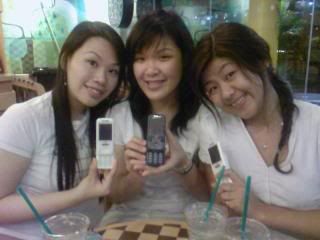 Xmas Season~
Don't i feel lucky having those people in Sg!!!

frm past till now at-
10:59 PM

Monday, December 11, 2006

At last this week am going back sg, the food, the fun, the friends, and everything else, been slacking way~~~ too much and guess what! We got a proper place to sit n watch TV at last! Got our pink futton *grinz wide*
Trying to study for math that is, but as usual I ended up watching anime have tons of them, did some packing of my luggage, now the only thing not in yet is my necessities and shoes *blinks*
Tml is math, and the day after Soci,gotta remind myself that I still need to do a little shopping for my owner, and her gf -.-" and out of all things, VS stuff hurhur gonna prolly get myself some VS pJ n stuffies... Sad to say am going back for only a week to Sg, but oh well its better than nothing yeah~~~ gonna cramp everything within that week, clubbing, going out, chilling, beach volley ball *beams* or rather the sand and the sun and the sea! And... The shopping!!! urgh, I duno if I can actually meet everyone. Gonna give Basil a heart attack with his car lol!
Pretty excited... Well I hope I can go up to Puncak and relax abit while am back in Indo, miss the plain fields and just the vast land. That reminds me... If am going back to Indo next year some point of time in Summer... (ahuh, having the slight thoughts, depend on scheduling though), I prolly drag Ging, to take leave n go to Bali with me =p, the surf! The sun, the people muhahahha kk
Think am just missing too much of the Sun and the tropical environment =(
Ps. Owner! Muah Luv ya *Grinz*

frm past till now at-
12:07 AM

Friday, December 01, 2006

*mumbles* today's wind is horrendous, I woke up a little late and was rushing to school, semi-concious ( in the state of slumber) and when I reached downstairs not only did I miss my bus but also the crazy wind that drove me back to my little crib. That freak of a wind, blew past my jeans, into it and attack my poor legs! Being already in a state of slumber, I gave up the thought of even trying to wait for the next bus for class and just went up n wrap myself in blankie -_-" thank god I did not wait for the next bus or nt I prolly be caught in between more wind + snow flurries. Its fun watching it through the window though *evil grinz* but I am thankful I was not out there braving the wind and fighting the flurries to get to class...
Had to go for my noon class, but well it ain't that bad, at least this time round I remmeber to bring my ear muffies, and gloves... This is truly the signs of December (>.<) There were news on tv that its gonna get worst in the couple of days and temperature is gonna plunge next week, i seriously hope there is no crazy snow storms on the day i fly back to Sg, i don't want to be caught stuck in the airport not knowing what to do!
Oh well, so here i am after another session from the gym, trying to do my work and revising for finals, but it simply ain't happening, i kept saying i am gonna revise but never got down to it (-.-)instead my biggest achievement this week is watching finish "fullmetal alchemist"

My attempt to study and I ended up watching Bleach... =(

And having the motivation to visit the gym everyday for my daily dose of perspiration. HA! Only the elliptical machine makes me perspire, I seriously don't understand why I do not perspire at all when I am at the gym, others look like they had a small rainy cloud over them *ponders* I seriously don't know what snap in me and made me go to the gym so much this week, maybe like Mic mentioned, I am preparing for Sg food *hurhur* but I guess I just want to maintain my old routine again. I feel like I have been slacking off so much and treating my body too much with rubbish.
I realized something, which most people prolly do realize by now if they have been living here for sometime... Maybe its due to the weather, the roses I got, has become dried and it maintained its shape, I'll prolly leave it in the vase that way!!!
How cool is that (ok maybe I am abit too enthu.) but hey its better than Sg, where the flowers I get always end up dead and hmm moist,ew~
Alright better get going and get motivated to start studying at least something, even a word would help.





frm past till now at-
7:40 PM






I was talking to Micheal earlier today and somehow we talked abt worms... and he mentioned tt on a rainy day if we look down on the ground and see a long~~~~ (note long!) stick like thingy on the ground, it is prolly a worm, like HUR a worm.... long n stick like, at first I thought what he meant was that it was sticking out of the ground,and that there we tons of em *freaks out*,i remembered having a short circuit on my sensory thinking line because i was rather freaked out at the fact that there were tons of "long and stick like" worms on the ground, and i said something like "up to the sky?" lol i think was abit too extreme on my thinking, i was thinking that they were sticking up from the ground (don't ask me why_), (>_<) but well i guess the though of tons of worms that look like sticks scares me to death, from today onwards when its raining and and i see a stick like thingy on the ground, i better make sure i'd move away from it...

I seriously cannot imagine summer, the variety of bugs that will come out due to the heat, oh gross, and my roomate would probably not be ard, how will i survive i wonder, such a scary thought... I'd prolly be buying tons of insecticides, come to think of it, we haven't bought insecticides so far, but fret not! we have frebreeze or something like that, bought 2 of that and tons of other nonsense today from the C store to finish up our points, and hurhur i ended up spending $220++ worth of points on groceries/ neccessities. Kinda shocking hur! well i think the main reason of the expenditure was the beef Jerkies that i was intending to bring back. I think the guy at the register thought we were kinda mad lol....





frm past till now at-
1:40 AM





Wednesday, November 29, 2006



gosh i was looking at the top of my screen, and there was a layer of dust -_-" well its like more dust than Singapore >.<" I wonder where all the dust flew from. One more thing i realise, like i was telling my roomie "eh, i realise there is no roach here(meaning bloomington)" and as we both get freaked out by insects she said "choy!" lol... but one thing we both agree on is that the flies here are HUGE (>_<) or rather when there is an insect, it is huge!Its like 2 times or even comparably 3 times the size of the normal insects we see in asia *shakes head*





frm past till now at-
1:38 AM